Everyone who lives in the UAE is impacted by a change in the Petrol Price in UAE. Dubai and other emirate car owners are aware that even a small increase in fuel costs in the UAE might affect their monthly spending and raise their overall cost of living in the country.
The UAE Fuel Price Committee recently announced that while gasoline prices have decreased for the month of May, diesel prices would increase for UAE citizens.
Petrol Price Future Reports
Petrol prices in the UAE have been increasing steadily over the past few years. However, recent reports suggest that the cost of petrol may be about to decrease. This is good news for motorists who have been feeling the pinch at the pump. The fall in petrol prices is due to a number of factors, including a decrease in demand from China and a bumper crop of crude oil. As a result, petrol prices are likely to remain low for the foreseeable future. This is welcome news for motorists and businesses alike.
The government published the monthly petrol price in UAE for the month of September on August 31. The UAE government has been following a strategy of monthly fuel price announcements since 2015 in an effort to deregulate fuel prices and bring them into line with market rates.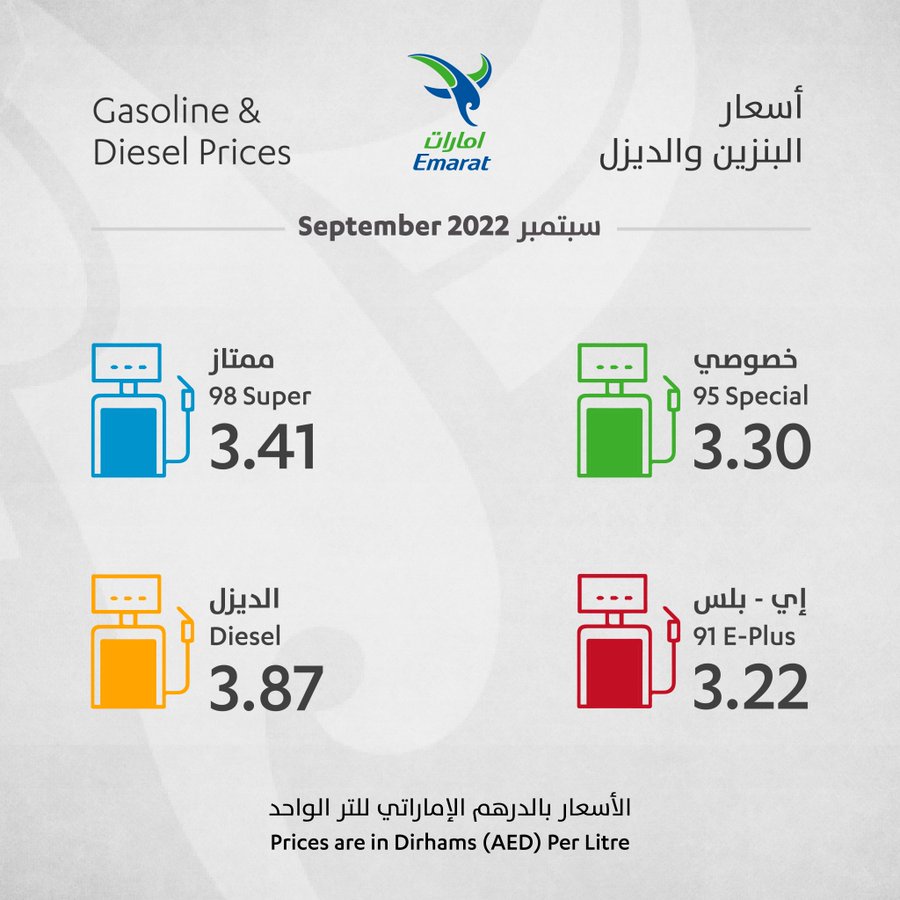 Gasoline and Diesel Prices at Different Stations
All of May 2022 in Dubai, fuel will be sold at the same per-litre price at ENOC, EPPCO, ADNOC, and Emarat gas stations.
You can refill at one of these gas stations in Dubai now that you are aware of the fuel price in the UAE for May 2022. If you don't have the time, Cafu, a mobile gasoline service in the UAE, is available for a small additional fee.
All of these locations to charge an electric car in Dubai should be known to city residents who drive environmentally friendly electric automobiles.
Fuel and Petrol Prices in Dubai and UAE Today
S&P Global Platts provides a benchmark that is used to determine pump prices. The Ministry of Energy includes a margin to cover operating costs and transit expenditures for retailers. Retailers begin each month by putting the prices into effect.
Retail petrol prices in Dubai and the UAE today are: E-Plus 91 3.22 AED, Special 95 3.30 AED, Super 98 3.41 AED, and Diesel 3.87 AED.
The price for a litre of diesel fuel is now 3.87 AED.
Prices are quoted in AED (United Arab Emirates Dirham) for one litre of fuel.
Petrol prices were last updated on
Historical Petrol and Diesel Rates 2021 -2022
Petrol and diesel rates in the UAE have been on a rollercoaster ride over the last few years. In 2015, a barrel of oil cost just $28, but by 2018 it had risen to $85. This led to petrol prices in the UAE rising from AED 0.75 per litre in 2015 to AED 2.19 per litre in 2018. However, oil prices then fell back to $50 a barrel in 2019, leading to a reduction in petrol prices to AED 1.72 per litre. The pandemic then caused oil prices to tumble again, and they are currently around $40 a barrel. As a result, petrol prices have fallen to their lowest level in over four years, with motorists currently paying just AED 1.21 per litre. Diesel prices have followed a similar pattern, and are currently at AED 1.33 per litre. Petrol and diesel rates are set to remain stable in the UAE for the foreseeable future, giving motorists some much-needed relief at the pump.
| | | |
| --- | --- | --- |
| Months | 2021 | 2022 |
| Jan | Dhs 1.91 | Dhs2.65 |
| Feb | Dhs1.91 | Dhs2.94 |
| March | Dhs2.21 | Dhs3.23 |
| April | Dhs2.29 | Dhs3.74 |
| May | Dhs2.30 | Dhs3.66 |
| June | Dhs2.38 | Dhs4.15 |
| July | Dhs2.47 | Dhs4.63 |
| August | Dhs2.58 | Dhs4.03 |
| September | Dhs2.55 | Dhs3.41 |
| October | Dhs2.60 | – |
| November | Dhs2.80 | – |
| December | Dhs2.77 | – |